A serious bus accident in Lehigh Acres is a reminder of the road risks as a new school year begins in Southwest Florida.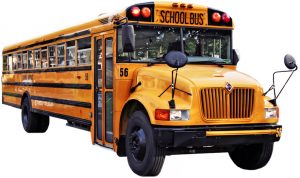 NBC 2 reported a bus collided with a passenger vehicle, shoving it partway beneath another school bus. Pictures show the impact of the collision. The accident occurred near Lee and Leonard boulevards in Lehigh Acres. The vehicle driver was reportedly uninjured. Three students on the Dunbar High School buses were evaluated for possible injuries. Such collisions can be far more serious. At the end of last school year, a motorist was killed in an accident with a Lee County school bus.
School Bus Accident Risks
Like tractor-trailers, school buses create large blindspots and block visibility for pedestrians, bicyclists and motorists. However, unlike other large commercial vehicles, school buses are often found on byways and side streets as they drop-off or pick-up passengers through the early morning hours, and again each afternoon. Inpatient motorists can increase risks, as is most common as we begin each school year. As this crash illustrates, underride is another serious risk of these types of collisions. These and other risk factors make it safest for motorists to avoid traveling around school buses whenever possible, particularly if buses are dispatching from a school or traveling in large groups.
Florida school bus law requires all drivers to stop for a stopped bus with red flashing lights. Yellow flashing lights mean a bus is preparing to stop and disembark passengers. Florida Department of Highway Safety and Motor Vehicles reminds motorist an update to the law, which took effect last July, increases criminal penalties when failure to stop for a stopped school bus results in serious or fatal injuries. Whenever possible,  F.S. 316.172 also requires school bus drivers to maintain a visible distance of 200 feet when stopping.
Statically speaking, school buses are among the safest forms of transportation. When injury does occur, it is most likely to be while getting on or off the bus, or while waiting at a bus stop.
School Bus Safety Tips
Plan to arrive to the bus stop five minutes early. Allow plenty of time as hurrying often leads to accidents.
Wait in a safe place. Never sit on a curb or wait in the roadway.
Children should know their bus number and driver's name. Children should be taught not to talk to strangers and to report any unusual activity to bus driver and parents.
Children should wait for a driver's signal to board and should never walk behind the bus.
Children should be taught to look left (direction of closest travel), right and left again before crossing the street.
More school bus and school zone safety tips are available by clicking here. 
Because children are taught to never walk behind the bus, motorists must be particularly alert for students crossing in front of the bus, where visibility will be blocked by the bus itself until the last second. This is precisely why motorists must stop and wait behind the bus. Don't be the impatient driver who causes a tragedy.
If you or a loved one is injured, call Associates and Bruce L. Scheiner, Attorneys for the Injured, at 1-800-646-1210.