Economic recovery has brought record-low unemployment throughout Southwest Florida. But hospitality, service and construction trades have seen increased work accident risks.
NBC 2 reports a 58-year-old man was killed when a crane truck backed into him as we was loading boxes onto a forklift. The accident happened in a North Fort Myers parking lot along Tamiami Trail. The Naples Daily News reports a Bonita Springs construction accident claimed the life of a man working on a concrete wall. We reported recently on our Florida Injury Lawyer Blog, a fatal Fort Myer roofing accident and a Naples elevator accident that claimed the lives of two construction workers.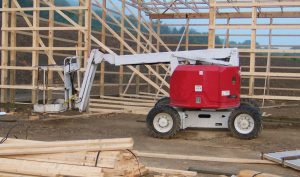 Factors in determining sources of economic recovery following a serious or fatal work accident, include whether an employee was an employee or independent contractor,  and whether an at-fault party or other third party (other than victim's employer) was wholly or partially liable.
Liability for Work Accidents in Southwest Florida
For many who are injured on the job, the Florida Workers' Compensation Act (F.S. 440) will be a primary source of benefits. The law provides employees a source of income while out of work and pays for medical bills associated with work injuries. It's a no fault system designed to provide workers certain benefits while shielding employers from liability associated with many workplace accidents. However in reality, most families dealing with a serious or fatal work injury still need the assistance of a workers' compensation lawyer if they want the best chance of obtaining all benefits to which they are entitled.
In some cases, an employer will try to assert an employee was an independent contractor, and thus not entitled to benefits under workers' compensation. In these cases, and in cases where another party shared blame for a work injury, an employee may pursue a third-party liability claim. Homebuilders, for example, typically use a series of general and independent contractors, each theoretically their own business but all dependent upon work building planned communities. The trucking industry is another industry that relies significantly upon the services of independent contractors, and utilizes limited liability corporations and other tactics to avoid the liability associated with traffic collisions.
Our Fort Myers construction accident lawyers know these cases can be among those most vigorously contested by employers and large insurance corporations. Identifying all responsible parties is vital to making a claim for appropriate damages. In cases of death or serious disability, workers' compensation benefits won't begin to cover damages. Today's economy increasingly relies upon independent contractors and freelancers who don't stand a chance against large insurance corporations, whether they stand as victim or accused. The large corporations, meanwhile, are able to use the law to their every advantage.
Identifying responsible parties and holding them responsible is vital in the wake of a serious or fatal work accident. The best thing victims and families can do is to reach out immediately for experienced legal help.
If you or a loved one is injured, call Associates and Bruce L. Scheiner, Attorneys for the Injured, at 1-800-646-1210.