COVID has caused widespread change throughout all areas of our society. The way we work and interact with others may never return to pre-COVID norms. Despite the stress, upheaval, and uncertainty, some pandemic consequences have actually improved our quality of life: More time with families, increased emphasis on work-life balance, and new tools for collaboration emerged in the midst of the virus' tragic toll.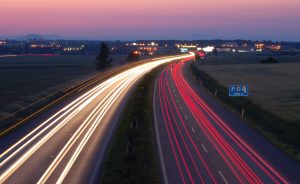 However, there is ample evidence that shorter attention spans and reduced patience have emerged as negative consequences of pandemic isolation. Traffic statistics, for example, show high collision rates, despite a reduction in miles traveled. And specific traffic behaviors, such as road rage, aggressive driving, and speeding, have reached new pandemic highs in 2022.
In fact, the National Highway Traffic Safety Administration (NHTSA) has launched a new safety campaign warning of the dangers of speeding, which is now involved in nearly one-third of all serious and fatal traffic collisions. It seems we have fewer places to go, and more time to get there—but we have less patience than ever before.
Speed Increases Accident and Injury Risks
Our car accident lawyers in Fort Myers and Cape Coral know most motorists understand the risks. Yet in traffic safety surveys, speeding is the dangerous driving behavior most often admitted to by the largest number of motorists.
Speed reduces reaction time, making it more difficult to avoid a collision, and increases force of impact. The laws of physics determine that the force of impact increases exponentially with an increase in speed. Thus, doubling your speed does not double the force of impact, it quadruples the force of impact! 
The number of motorists killed in crashes blamed on speeding was already on the rise before the pandemic—up 17 percent from 2019 to 2020, according to the NHTSA. These collisions claimed more than 11,000 lives during the first year of the pandemic, accounting for nearly 30 percent of all traffic fatalities.
Speed increases your risks of a collision in a number of ways:
It reduces your ability to avoid oncoming hazards, including objects in the roadway.
It increases emergency stopping distance.
And it increases the risks of a collision with our most vulnerable road users, like bicyclists or pedestrians, because they are unable to accurately predict your closing distance.
With the start of tourist season just around the corner, our car accident attorneys in Fort Myers and Cape Coral encourage you to respect the risks by resolving to maintain a safe speed on the road. Obeying the speed limit can also have a number of overlooked benefits:
Timed traffic lights in Southwest Florida are calibrated to road speed. Speeding is unlikely to allow you to reach your destination sooner. Instead, you will just find yourself racing from one red light to the next.
Obeying the speed limit reduces stress. Everyone can benefit from less stress during these trying times. Slow down. Enjoy the day. Give your fellow motorists a break.
Resolving not to speed may result in taking an alternative route. Most residents can think of multiple ways to reach a destination while leaving the busiest roads to the tourists. Just make sure you are not increasing risk to yourself or others by cutting through neighborhoods.
Maintaining a safe, even speed will substantially increase your gas mileage.
When it comes to your own safety and mental health, allowing plenty of time to reach your destination is perhaps the best thing you can do to reduce the stress and hassle of traveling throughout Southwest Florida.
If you or a loved one is hurt, call Associates and Bruce L. Scheiner, Attorneys for the Injured, at 1-800-646-1210.