A Florida appellate court recently affirmed summary judgment favoring warehouse giant Costco in a slip-and-fall lawsuit filed by a woman who broke her knee after falling inside a Miami store.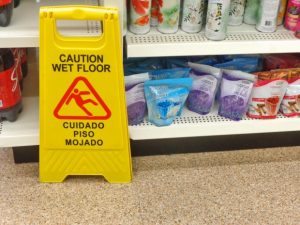 The primary reason the case failed was because, the court held, plaintiff had not produced evidence indicating that store staffers had knowledge of the liquid substance on its entrance way floor.
The element of a store owner's knowledge regarding a slippery substance on the floor is outlined specifically in F.S. 768.0755. This provision requires plaintiffs in Florida slip-and-fall cases to prove either actual or constructive knowledge on the part of the defendant. Actual knowledge would be if a store staffer created the condition or if they had been informed about it directly. Constructive knowledge is a little trickier, but can be established with circumstantial evidence that shows the condition listed long enough the store should have discovered it in using ordinary care or that the condition occurred with regularity and was therefore foreseeable.
In this case, according to Florida's Third District Court of Appeals, plaintiff accompanied a neighbor to Costco, a store to which she had never been. When they got there, plaintiff's neighbor went to get a shopping cart and plaintiff began walking toward the entrance. As she walked, she felt her right leg go out from underneath her, and she fell onto her left knee – breaking it.  Continue reading ›