National Weather Service records indicate it has never snowed in Naples or Fort Myers, even as overnight temperatures have dipped into the freezing territory in recent weeks. Our northern neighbors – even those just in the northern part of the state – have been dealing with frozen precipitation. This buildup of snow and ice has the potential to generate numerous hazards, including those entering and exiting businesses. In many states where this is a regular hazard, the courts follow something called the "continuing storm doctrine." This means that business owners have no duty to customers to remove snow and ice from sidewalks when a continuing storm does not allow the owner a reasonable opportunity to remedy the issue.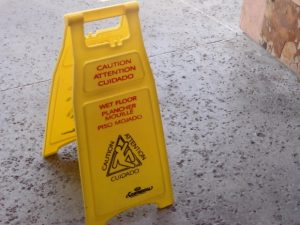 This type of case is known as a "premises liability" cause of action, more commonly known as a slip-and-fall. Premises liability claims in Florida are heavily dependent on the legal status of the visitor (which dictates the duty of care they are owed). For instance, those who are on site for the financial benefit of the property owner are owed the highest duty of care.
F.S. 768.0755 indicates that when plaintiffs are injured in Florida slip-and-fall accidents caused by transitory foreign substances on a walking surface, plaintiffs must prove defendant had actual or constructive knowledge of the hazardous condition and failed to address it. Constructive knowledge is proven via circumstantial evidence that shows:
Condition existed for such a length of time that the business would have or should have discovered it in the exercise of ordinary care;
Condition occurred with such regularity it was foreseeable.