The City of San Diego has agreed to pay almost $5 million to a man injured in a bicycle accident that resulted in severe injuries when his bike was thrown nearly 30 feet after striking a sidewalk that was damaged by a tree.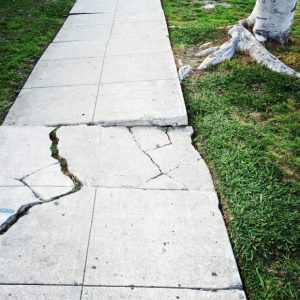 The bike accident occurred three years ago, and resulted in the cyclist suffering torn spinal cord ligaments, numerous lost teeth and a possible stroke after he landed on his head.
Plaintiff filed his personal injury lawsuit in 2015. The settlement agreement is for a much higher sum than what the city normally pays for bicycle injury lawsuits or injuries resulting from damaged sidewalks. Three recent settlements in the past ranged for between $75,000 and $235,000. However, the settlement agreement is still lower than the $7.6 million that was awarded to another cyclist at trial five years ago, after a man was paralyzed when a queen palm tree fell on him during a 2010 storm. Plaintiff in that matter argued the city was negligent because it responded to the Great Recession by, in part, slashing funds for the tree maintenance and inspection program.
For the most recent settlement, the city's liability insurance is only expected to cover a fraction of it, according to the San Diego Union Tribune. The city has $1.85 million in coverage per incident. The rest it will be paying out-of-pocket to plaintiff.
In most cases, when a government agency settles a lawsuit prior to trial, it shows they perceive the risk of losing at trial to be greater than forging a settlement agreement.
Plaintiff alleged in this case the city was responsible for taking corrective measures that would have eliminated a sidewalk ramp that measured 7 inches, after a tree root growing underneath pushed up the concrete. The city failed to post any warning sign or other indication that cyclists or pedestrians were coming up on a potentially hazardous condition. Plaintiff was reportedly on his way to a friend's house when he approached the raised curb. When he struck it, he flew off the front of his bicycle, landing about 30 feet away.
He was hospitalized for a month, then spent two months in a nursing home and has since required regular home health care. Initially, the city responded to the lawsuit by contending that the danger was open and obvious (a prime defense in any premises liability lawsuit) and further that damage plaintiff incurred was "minor" and "trivial."
Part of this may have been predicated on the fact the city hoped to present evidence of plaintiff's history of mental illness and alleged substance abuse. While a judge nixed the city's bid to introduce plaintiff's mental health history, the substance abuse issues were to be allowed into evidence.
However, the city's position apparently shifted once it had a chance to comb through the evidence of the bicycle accident. Local government entities do not pay out nearly $5 million for "trivial" injuries and claims. Here, plaintiff is unlikely to be able to work again and there is a high likelihood he will continue to need ongoing medical care and attendant care.
Plaintiff also initially sued the property owners adjacent to the damaged sidewalk. However, the judge ruled they were not liable because it was ultimately the city that controls the sidewalk.
Call Associates and Bruce L. Scheiner, Attorneys for the Injured, at 1-800-646-1210.
Additional Resources:
San Diego paying $4.85M to cyclist injured by damaged sidewalk, March 1, 2017, By David Garrick, San Diego Union Tribune
More Blog Entries:
Bicycle Accident Results in $38 Million Verdict Against Valet Company, Feb. 20, 2017, Fort Myers Bicycle Injury Lawyer Blog