The improving economy is briging a strong tailwind to Southwest Florida's booming construction industry.
As our Founder Bruce L. Scheiner celebrates his 50th year fighting for the rights of the injured in Southwest Florida, we have written about the area's long history of explosive growth. Since 1971, Lee County has grown from fewer than 100,000 residents, to about 800,000.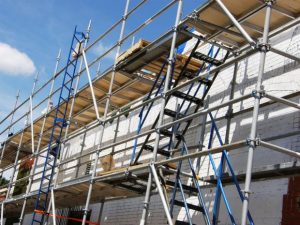 But, if anything, growth has seemed to accelerate since coming out of the Great Recession a decade ago. And, while the COVID pandemic stalled growth temporarily, all signs point toward continued growth and expansion.
Our construction injury lawyers have been representing workers hurt or killed on the job for half a century. These are very complex cases. Determining all of the at-fault parties, the full extent of injuries, and the impact on a victim's future ability to work and enjoy life, must all be carefully investigated, documented, and proven.
Causes of SWFL Construction Injuries
However, the common causes are not nearly as complex. In fact, for the most part they are well understood and frequently preventable.
More than 150,000 construction accidents occur each year. More than 11 million workers are employed in construction, a 25 percent increase in the last decade, according to the Centers for Disease Control and Prevention. An increasing number of these workers are Hispanic, nearly 30 percent, compared to 16 percent a decade ago. Fatalities among Hispanic construction workers are particularly concerning, with the number of fatal injuries rising about 90% from 2011 to 2019, outpacing their employment growth in the industry during the period.
On average, about 1,000 workers a year are killed.
The most common causes include:
Falls: More than one half of all fatal accidents result from falls, claiming more than 400 lives a year on average.
Struck by: Being struck by objects or heavy equipment accounts for 15 percent of all fatalities, claiming nearly 200 lives each year.
Electrocution: While accounting for relatively few incidents, these accidents are nearly always fatal, claiming nearly 100 lives a year.
Caught between: Crush injuries and injuries resulting from being caught in machinery, are responsible for many of the remaining serious and fatal construction injuries.
 Construction Injury Claims
These are complex claims for many reasons, not the least of which is the lengths construction companies go to to avoid liability in the event of the injury or death of an employee. Operating as Limited Liability Corporations and hiring independent contracts, are both common tactics. In many cases, contractors may avoid the cost associated with workers' compensation insurance and disability insurance by misclassifying workers as independent contracts.
It's important for our construction injury attorneys to note that such cases do not bar a victim and his family from recovering damages. In cases where workers' compensation insurance is not available, a worker can file a traditional personal injury lawsuit that would otherwise be barred. While employers who carry workers' compensation coverage are generally protected from such liability, those who fail to adequately protect their workers by carrying the proper insurance do not enjoy such protections.
Equally critical is identifying other responsible parties. A third-party liability lawsuit can be brought against anyone who shares blame, other than a properly insured employer. This can include another contractor, a property owner, a cite manager, or other liable party as identified by your chosen law firm. Such claims can be critical when it comes to making an adequate recovery.
If you or a loved one is injured, call Associates and Bruce L. Scheiner, Attorneys for the Injured, at 1-800-646-1210.