Intersection accidents have been in the news a lot this month. Too often motorists see intersections as delays and bottlenecks in their commute, even running yellow lights to quickly get past some of Southwest Florida's most notorious hot spots for congestion and motor-vehicle collisions.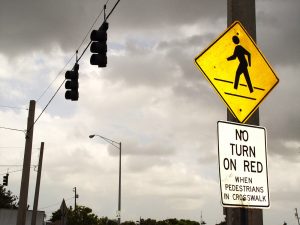 WINK News reports a recent reader survey identified U.S. 41/Colonial Boulevard, Six Mile Cypress and Gladiolus and the Midpoint and Cape Coral bridges as among the worst traffic locations in Southwest Florida.
With tourist  season just around the corner, it's critical motorists remember that these high-traffic locations are also the most likely location for serious and fatal motor vehicle collisions. Allowing frustration or distraction to prevail when caught in traffic, will only further increase your risks. Our Fort Myers car accident lawyers know intersections are the most common location for urban car accidents and pedestrian accidents. These natural points of traffic conflict involve bumper-to-bumper traffic, walkers and cyclists, and harried and distracted drivers.
Intersection Dangers in SWFL
In Cape Coral, The News-Press recently reported a number of dangerous intersections are seeing increased accidents risks, including Veterans Memorial Parkway at Santa Barbara Boulevard; Coronado Parkway at Cape Coral Parkway; Santa Barbara and Pine Island Road; Hancock Bridge Parkway at Santa Barbara Boulevard and Country Club Boulevard at Veteran's Parkway.
Negotiating an intersection always requires a driver's full attention, as navigation, guidance and control are critical. To successfully execute a vehicle maneuver through an intersection, the driver must receive and recognize available information, make a decision, and execute the desired action.
Critical tasks include:
Being aware of other vehicles and their travel paths.
Monitoring traffic and pedestrian flow.
Obeying traffic lights.
Monitoring your field of vision for blind spots and/or errant vehicle of pedestrian traffic.
Watching for cyclists.
Assessing traffic gaps.
Choosing proper lane and yielding right of way at crosswalks.
Rapid decision making.
Intersection Injury Claims
As infrastructure continues to struggle to keep up with Lee County's explosive growth, media outlets are reporting a number of new traffic lights, as well as roundabouts and other traffic calming devices are being installed, often in response to traffic tragedies and/or neighborhood outcry about the risks.
Those involved in serious collisions at intersections should always seek early advice from an experienced car accident law firm in Fort Myers or Cape Coral. Identifying all of the reasons for your collision can reveal all of the causes and liable parties. Independent investigation of of the accident scene, determining causation, and identifying all liable parties and their associated insurance carriers are critical to obtaining a just claim for damages.
Intersections are complex accident locations. Even in cases where a victim is found partially at fault, Florida's comparative fault laws may permit recovery from another at-fault party. Known dangerous locations may also leave government agencies exposed to liability in cases where dangerous conditions are left uncorrected and serious or fatal traffic accidents continue to occur as a result.
If you or a loved one is injured, call Associates and Bruce L. Scheiner, Attorneys for the Injured, at 1-800-646-1210.