We hope you will join us April 9 for the final Cape Coral Bike Night of the season. While it is the final event for the season, it's important for motorists to know that summer riding season is just getting underway. Please look twice for riders, always give them the right of way, and do what you can to send them home safe to their families. The few extra seconds it takes to allow a rider to safely pass, is well worth avoiding the potential liability of being found responsible for a serious or fatal collision.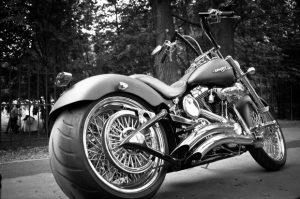 For 15 years, Associates and Bruce L. Scheiner, Attorneys for the Injured, has provided title sponsorship for Southwest Florida's largest family-friendly gathering of motorcycle riders. Visitors are greeted by live music, dozens of vendors, and a variety of contests and entertainment that have made the event bigger and better every year.
Our motorcycle injury lawyers have built a reputation as staunch advocates of motorcycle rights through 50 years of representing riders and their families, and through dozens of events promoting motorcycle safety throughout the communities of Southwest Florida.
Insurance Coverage Critical For SWFL Riders
Most veteran motorcycle riders are safe riders. They know and understand the risks. In far too many cases, riders are wrongly blamed for collisions. In the vast majority of collisions involving a motor vehicle, fault belongs to the vehicle's driver. So, while we encourage riders  – even veteran riders – to take rider safety courses, we know most keep safety at the forefront.
However, we are still surprised by the number of riders we meet who do not begin and end their safety efforts by carefully reviewing their insurance policies to make sure they are carrying high-limit uninsured/underinsured motorist coverage.
An estimated 1 in 5 Florida motorists are on the road without any insurance. And Florida's mandatory minimum liability coverage of just $10,000 is the lowest in the nation. Even more alarmingly, Florida is among the states that do not require motorists to carry uninsured/underinsured motorist coverage.
This coverage protects you and your family in the event that you are involved in a collision with an at-fault motorist who does not have insurance or does not have enough insurance to adequately compensate you for damages. It also protects you in the unfortunately common event that you are involved in a crash with a motorist who leaves the scene.
You can carry this coverage with the same limits as your bodily injury liability coverage. While Florida's minimums are just $10,000 per victim/$20,000 per occurrence, we encourage all motorists to carry a minimum of $50,000/$100,000. Ideally, all motorists should carry even more insurance, with $100,000/$200,000 or even higher limits available for a modest increase in premiums. But this is even more true for riders.
Our motorcycle injury lawyers in Fort Myers and Cape Coral know there is no such thing as a minor motorcycle accident. Even low-speed collisions can result in serious injuries, lost time from work, and temporary or permanent disability. Your automotive insurance policy is meant to cover other drivers in the event you are found at fault for a collision. Your uninsured/underinsured motorist coverage is what protects you and your family and so it is the best protection and peace of mind you can buy.
If you or a loved one is injured, call Associates and Bruce L. Scheiner, Attorneys for the Injured, at 1-800-646-1210.