Several high-profile motorcycle crashes this week are a stark reminder of the risks riders face as we head into the summer riding season.
A Cape Coral restaurant owner was killed when his motorcycle was struck by a motor vehicle at an intersection in Cape Coral. Another rider was seriously injured in a crash on Airport-Pullings Road in Naples, according to the Daily News.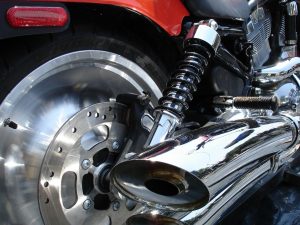 Our veteran motorcycle injury attorneys have spent decades fighting for the rights of riders and their families, as well as promoting safe riding throughout the community. We urge all motorists to use caution around riders, and to understand that their lives are truly in your hands.
May is Motorcycle Safety Awareness Month nationwide. The Florida Department of Highway Safety and Motor Vehicles is reminding all drivers of their responsibilities in an effort to help prevent these needless tragedies.
" Motorcyclists are much more vulnerable than other motorists in the event of a crash," said Colonel Chris Knight, Director, Florida Highway Patrol.
Per mile driven, riders are 37 times more likely to be killed in a traffic collision than passengers in a motor vehicle. Florida continues to be the nation's deadliest state for riders, with more than 500 riders killed each year, according to the Governor's Highway Safety Association.
Liability after SWFL Motorcycle Collisions
Resolving to be a safer driver can help prevent you from being found responsible for causing a serious or fatal motorcycle crash. Our motorcycle injury lawyers in Fort Myers know most collisions involving a motor vehicle and a motorcycle are the fault of the vehicle's driver.
Common negligence of drivers include:
Failure to yield by turning left in front of an oncoming rider. This is the number one cause of serious and fatal motorcycle collisions.
Failure to signal your intentions before changing lanes or merging with traffic.
Failure to allow for sufficient following distances. When following a motorcycle, make certain the motorcyclist has enough time to maneuver or stop in an emergency. Never tailgate.
Failure to yield to riders when exiting a parking lot or private driveway.
Motorcycle Injury Claims
While fault is often clear after a motor vehicle collides with a motorcycle, an experienced personal injury law firm must often look to all avenues of compensation because of the very serious or fatal injuries suffered by riders. Significant loss of work, medical expenses and long-term medical consequences, including disability claims, are common in the wake of a motorcycle accident.
In addition to the at-fault driver, a rider may also look to make a claim against his or her own insurance policy if the rider is carrying uninsured/underinsured motorist coverage. This is vital coverage every rider should have because Florida's rock-bottom mandatory minimum insurance requirements of only $10,000 will be wholly inadequate to cover losses in the event of a serious claim.
In other cases, riders may be unfairly blamed for causing or contributing to a collision. These cases should be thoroughly investigated by an experienced law firm. Florida's laws on contributory negligence do not prevent a rider from making a claim in many cases, even if a rider was found partially at fault.
If you or a loved one is injured, call Associates and Bruce L. Scheiner, Attorneys for the Injured, at 1-800-646-1210.