After two holiday seasons marred by the coronavirus pandemic, there is early evidence that people are visiting the malls and big-box stores in record numbers as Black Friday officially opens the holiday shopping season.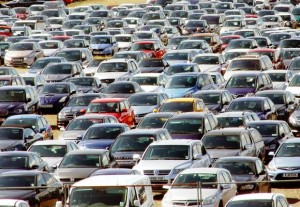 Our injury lawyers in Fort Myers and Cape Coral recently wrote about the risks of holiday shopping injury But a significant number of injuries occur in the parking lot, before shoppers even make it to the store. Being aware of the risks, and what you can do to keep you and your family safe, can go a long way toward avoiding injury this shopping season.
Parking Lot Injury Prevention
Here are some of the steps you can take to avoid injury:
Keep track of small children. Unless they are tall enough to be seen through the rear window of an SUV, hold their hand while walking through the lot.
Avoid walking directly behind parked vehicles. Whenever possible, walk far enough into the travel lane to be seen through the rear windows of large SUVs, while avoiding being in the travel lane. Walk facing oncoming traffic in the travel lane, or walk between rows of parked cars when parking stops permit a walkway between lanes.
Park in a well-lit area. This is particularly true for women shopping alone at night but everyone should seek out a well-lit place to park with safe walking access to their destination.
Avoid leaving packages visible in the car. Put them in the trunk or on the floorboards covered by a blanket.
Beware of dangerous conditions, including potholes, crumbling asphalt or parking stops, and loose handrails or wet and slippery surfaces.
Look twice before backing up.
Whenever it is safe to do so, pull through a parking spot so that you can pull out, instead of backing, when you leave.
Businesses and commercial property owners and occupants owe customers the highest duty of care under Florida's premises liability laws. They are responsible for correcting dangerous conditions or warning of conditions they know to be dangerous, or should have known about as a reasonably responsible property owner. When guests are injured on business property, they typically have a right to be compensated for medical bills, lost wages, pain and suffering and other consequences of an injury accident. However, it is up to injury victims to seek help from an experienced law firm and to assert their rights as soon as possible after an injury occurs. Business and property owners are likely to quickly correct dangerous conditions after an accident occurs, so documenting the scene as it exists when a victim is injured is a critical part of gathering evidence to successfully prove your case.
However, the best offense is a good defense. Understanding and mitigating the risks can go a long way toward keeping you and your family safe so that you can enjoy the holidays with your friends and loved ones.
If you or a loved one is injured, call Associates and Bruce L. Scheiner, Attorneys for the Injured, at 1-800-646-1210.