Recently in central Florida, two certified nursing assistants were fired and arrested on charges of battery on an elderly person after footage from a hidden camera appears to show them striking an elderly Alzheimer's patient in their care.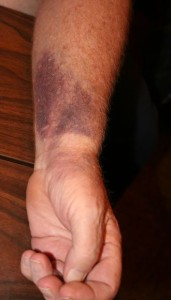 The 76-year-old victim's son said he and his wife noticed the bruising on his body, but assumed it was the result of frequent falls. His father wasn't able to communicate the truth, according to ABC 10 News. The son then placed a "nanny cam" in his father's room. They discovered staffers taunting him, handling him roughly and even striking him.
The worst part about all this is that it's not all that uncommon. A new study published in the latest edition of The New England Journal of Medicine indicates 1 in 10 elderly people will suffer some form of abuse in their lives. That's a largely conservative estimate, considering it involves self-reported abuse. Many people, like the victim in the aforementioned central Florida case, can't speak up about what's happening to them. Diseases like Alzheimer's and dementia rob them of the ability to recognize and articulate these wrongs, to say nothing of the fear that keeps some suffering in silence.
As we embark on a new holiday season, it's imperative for relatives and friends visiting elderly loved ones to keep a watchful eye for the signs of potential abuse.
Here at the Associates and Bruce L. Scheiner, Attorneys for the Injured, our Fort Myers nursing home abuse lawyers are dedicated to fighting for the rights of victims. We recognize that this vulnerable population has a heightened abuse risk, and we work closely to hold accountable facilities that fail to protect them.
The latest review article indicates that this is an issue that is woefully understood and understudied. In fact, the first analysis of this very broad issue didn't really get underway until the 1970s. Researchers say the available data has improved considerably in the last 10 years. This is good news because the problem is only likely to get worse. The U.S. Census Bureau reports that by 2050, 1 in 5 Americans will be elderly (over the age of 65). That's 80 million Americans, or more than double what it is currently.
Abuse to the elderly can take several forms, including:
Physical abuse
Verbal/ emotional abuse
Sexual abuse
Financial exploitation
Neglect
In nursing home settings, we see every single type of abuse, with most perpetuated by staffers and other patients. The majority of victims are female, living under the poverty level and increasingly isolated.
Abusers, meanwhile, are more likely to be males who are socially isolated with a history of substance abuse, mental or physical health problems, a criminal history, financial problems and/ or major stress.
Study authors put the onus of abuse discovery largely on physicians. If the average physician sees 2,400 patients annually, that's potentially 240 people who are suffering abuse. Doctors caring for patients in nursing homes may see an even higher number of abuse victims.
Certainly, pointed questions from a physician during an annual exam may help somewhat stem the tide. However, vigilance by family members and other loved ones may be even more imperative. These are the people who spend more than 20 minutes at a time with victims. Spending a few minutes asking how they are doing, taking special note of any bruises or changes in behavior or personal outlook may indicate problems not readily apparent on the surface.
Call Associates and Bruce L. Scheiner, Attorneys for the Injured, at 1-800-646-1210.
Additional Resources:
10 percent of Older People Have Been Victims of Abuse, Nov. 13, 2015, By Shefali Luthera, NPR.org
More Blog Entries:
Wrong, Missed, Delayed Diagnosis Happens to Majority of Americans, New Report Says, Nov. 3, 2015, Fort Myers Nursing Home Abuse Lawyer Blog