The Florida Department of Highway Safety and Motor Vehicles is reminding motorists to use extra caution in construction zones as the summer road construction season gets underway.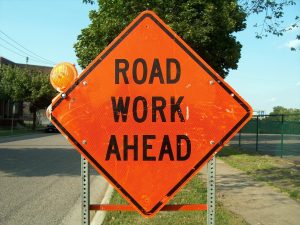 The week of April 8th is National Work Zone Awareness Week, as safety advocates work to raise awareness about the increased risks of driving through construction zones in Southwest Florida. The awareness campaign has been conducted at the start of road construction season each year since 2000. More than 100 construction workers are killed each year in road construction transportation accidents, according to the U.S. Department of Transportation.
Risks of road construction zones include changing traffic patterns, narrowed rights-of-way, uneven roadways, lack of breakdown lanes, and other hazards that increase the risk of motor-vehicle collisions. Federal statistics show drivers and passengers are most likely to be seriously injured or killed in road construction zones. Each year more than 600 motorists and passengers are killed, as well as more than 100 bicyclists and pedestrians. About 200 fatal work zone collisions each year involve a large commercial truck or bus.
Our Fort Myers injury attorneys encourage you to respect the risks of driving through road construction by paying attention and obeying all rules of the road.
Reducing Road-Construction Collision Risks
About half of these collisions occur on the interstate, although arterial roads leading to or from a highway are the site of more than one-third of road-construction collisions. This is particularly true in high-growth areas like Southwest Florida, where local planners continue to race to build roads and other infrastructure capable of handling the increasing traffic demands.
In addition to obeying all traffic laws, and driving defensively, there are specific steps you can take to reduce your risk of being involved in a motor vehicle collision in a road construction zone.
Don't Speed: Speed is a leading cause of road construction accidents. Slow down and avoid following too closely to allow for more reaction time.
Plan Ahead: Road construction accounts for about 10 percent of road congestion and about one-fourth of unexpected freeway delays. Plan your route and allow for extra time to reach your destination.
Obey Road Crews and Signs: Watch for large vehicles entering or exiting the roadway and follow all temporary signs, flaggers and other road-crew instructions.
Move Over: Florida law applies to road crews and utility workers, as well as law enforcement. Move over as far away from construction work as possible.
Avoid Distraction: Collisions in work zones are caused most often by the unexpected. Avoiding distraction is critical to maintaining your focus on the road while maneuvering through a construction zone.
Florida's Move Over Law is found in F.S. 316.126 and requires drivers to move over and/or slow down when approaching road crews with activated lights or visual signals. An experienced Fort Myers injury attorney should always be called to review these cases in the immediate aftermath of a collision. The nature of road construction means that road conditions change on a daily and sometimes hourly basis. Documenting the conditions at the time of your collision can be critical to proving your claim for damages.
If you or a loved one is injured, call Associates and Bruce L. Scheiner, Attorneys for the Injured, at 1-800-646-1210.
Additional Resources
Work Zone Safety for Drivers, Federal Highway Administration
More Blog Entries
Southwest Florida Bikers for Babies Event a Success, Nov. 10, 2018, Associates And Bruce L. Scheiner, Attorneys for the Injured.