The Florida Department of Highway Safety and Motor Vehicles is reminding motorists to use extra caution in construction zones as the summer road construction season gets underway.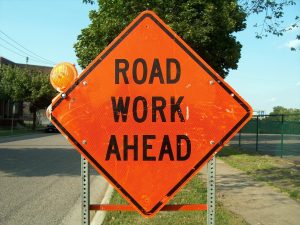 The week of April 8th is National Work Zone Awareness Week, as safety advocates work to raise awareness about the increased risks of driving through construction zones in Southwest Florida. The awareness campaign has been conducted at the start of road construction season each year since 2000. More than 100 construction workers are killed each year in road construction transportation accidents, according to the U.S. Department of Transportation.
Risks of road construction zones include changing traffic patterns, narrowed rights-of-way, uneven roadways, lack of breakdown lanes, and other hazards that increase the risk of motor-vehicle collisions. Federal statistics show drivers and passengers are most likely to be seriously injured or killed in road construction zones. Each year more than 600 motorists and passengers are killed, as well as more than 100 bicyclists and pedestrians. About 200 fatal work zone collisions each year involve a large commercial truck or bus.