April is distracted driving month.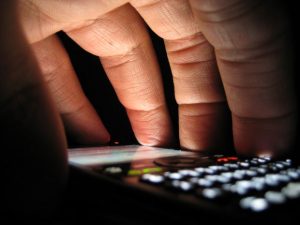 Officials with the Florida Highway Patrol, the Florida Department of Transportation, the Florida Police Chiefs Association, the Florida Sheriffs Association and AAA are teaming up to promote Distracted Driving Awareness month, and urging drivers to keep their eyes on the road.
Last year in Florida, approximately 50,000 crashes involved a driver who was distracted. It's an action that substantially impairs reaction time, resulting in an estimated five crashes in this state every single hour. 
State leaders calculated that in 2016, nearly 240 drivers died and another 3,500 suffered serious bodily injury as a result of a distracted driver.
Many people who text and drive don't view their actions as sufficiently dangerous. After all, it only takes a few seconds to send and receive a text. But here's the reality: The average text takes five seconds to read. If you're traveling at 55 mph, you have traveled the length of a football field in that time frame. You have traveled the length of that football field while essentially being blind.
Plus, research has shown us that distraction can consume our senses. So let's say you're conversing on a hands-free cell communication device.
First off, we know that talking on the phone can be every bit as distracting as reading a text message because it captivates our attention. Our brain can only focus on one intensive task at a time. Conversations, even ones we don't consider very serious, can consume our available brain capacity.
Secondly, research from the National Safety Council has proven that it doesn't matter whether we're actually holding the phone or whether we're using a hands-free device. Both are equally distracting.
Engaging in this behavior doesn't just put the driver at risk. All passengers in that vehicle are in danger – as is every other person sharing the road with that driver.
Yes, it may only last a few seconds, but the consequences can last a lifetime.
Although texting is perhaps the most prominent form of driver distraction, it's by far the only one. Other types of dangerous distraction include:
Talking/ tending to children in the backseat
Applying makeup
Tuning the radio
Checking GPS navigation
Eating/ drinking
Daydreaming
It's true that younger drivers are more susceptible, but they certainly aren't the only ones. Drivers ages 20 to 24 were responsible for the most distracted driving crashes, followed by 25-to-29-year-olds and then 15-to-19-year-olds. Drivers in these cohorts accounted for more than 20,000 car accidents every single year.
Still, the NSC noted a huge factor for many drivers is work. We feel overwhelming pressure to be connected at every moment of every day. Employers can combat this by enacting cell phone policies that dissuade or forbid workers from using their cell phones while driving. Believe it or not, this same kind of approach worked years ago with seat belts. Employers led the charge, requiring workers to wear their seat belts while on the job. This in turn resulted in more people wearing seat belts in motor vehicles even when they weren't on-the-clock.
As always, drive defensively and be on the lookout for dangerous motorists. If you spot a driver you suspect may be distracted or drunk, they can contact authorities by dialing *FHP (*347). (Consider having a passenger dial for you.)
Call Associates and Bruce L. Scheiner, Attorneys for the Injured, at 1-800-646-1210.
Additional Resources:
Florida Agencies Focused on Distracted Driving This Month, April 4, 2017, OHS Online
More Blog Entries: