Using a hand-held device while driving could soon be illegal in Florida.
The Tampa Bay Times reports lawmakers are considering a measure that would turn Florida's texting ban into a law that would prohibit all drivers from using a hand-held device behind the wheel. The newspaper urged drivers to make it a 2019 resolution, noting it was not hyperbole to call distracted driving an epidemic.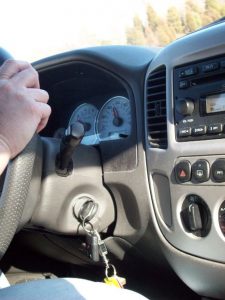 Our car accident attorneys in Fort Myers and Cape Coral agree. We have marked the New Year with a number of driving-safety blogs aimed at reducing car accident deaths and identifying vulnerable road users.
No driving behavior creates more accident risks than driving distracted. Cell phone use is blamed for more than 1.5 million traffic collisions each year, according to the National Safety Council.
Florida Distracted-Driving Law
In Florida, authorities blame the deaths of 200 motorists last year on drivers who were texting or otherwise using a hand-held device at the time of the collision.
WINK News reports a bill under consideration in the Florida legislature (House Bill 45), essentially would ban drivers from holding their phones while at the wheel.
Our car accident attorneys in Southwest Florida know Florida has trailed the pack when it comes to enacting laws to combat distracted driving. Florida finally joined 47 other states in enacting a driver texting ban, though it was among the last states to do so. Still, Florida, Nebraska and South Dakota remain the only states where the law remains a secondary offense, according to the National Conference of State Legislators, meaning a driver must commit another offense before being stopped and ticketed for driving distracted.
Under current law, F.S. 316.305, drivers are prohibited from using their phones for functions other than talking, including texting, email and instant messaging. However, exemptions exist for emergency workers, those reporting criminal activity, and messages related to navigation or safety information (like traffic and weather alerts).
The current law is nearly impossible to enforce and a user's cell phone records are only allowed to be used as evidence if distracted-driving is blamed for a collision causing serious personal injury or death.
Penalty for a first offense is just $30.
Distracted Driving Prevention in SWFL
We hope Florida lawmakers are successful in passing a measure that stands a real chance of reducing risks and preventing motor vehicle collisions. But as a motorist, it's clear you should not count on the law to reduce your collision risks. By avoiding distraction at the wheel you not only reduce the chances you will be found liable for a traffic collision, you increase your reaction time by paying attention, which means you are more likely to avoid a collision with a distracted driver.
Cell phones are the most prevalent distraction risk for drivers, but being aware of other common causes of distraction can help reduce your risks:
Passengers: While young drivers are most at risk, statistics show riding with passengers increases driver distraction.
Inattention: Eating, grooming, applying makeup or other forms of multitasking take your attention from the road.
Technology: On-board electronics, climate controls and navigation devices can also create distraction. Radios were the first automobile technology to be lobbied against as distracting when they were first introduced to the mass automobile market in the 1950s. Today's distracting technology is even more prevalent.
Outside distraction: It's season in Southwest Florida. Heavy traffic, road construction, accidents and roadside obstructions or attractions can create their own accident risks.
Keep the focus on driving and you'll be safer behind the wheel, regardless of what lawmakers in Tallahassee accomplish this year.
If you or a loved one is injured, call Associates and Bruce L. Scheiner, Attorneys for the Injured, at 1-800-646-1210.