Lightning safety is in focus in Southwest Florida through the height of the hurricane season, which runs through November 30.
As Hurricane Dorian batters the Bahamas and threatens the East Coast of the United States this week, it's easy to remember the power of Mother Nature.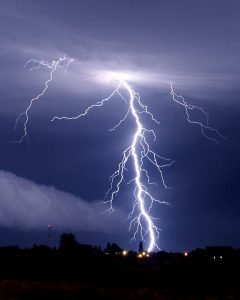 But lightning is a primary threat throughout Southwest Florida's long rainy season. In fact, South Florida is the lightning capital of the United States, with Rwanda being the only place in the world where lightning is a bigger threat. As a result, South Florida leads the nation in fatalities and injuries resulting from electrical storms.
Fort Myers injury lawyers know injuries resulting from lightning can include muscle pain, broken bones, burns, cardiac arrest, hearing loss and seizures.  Lightning burns are characterized by a unique pattern of skin lesions. Alternative names for them include "keraunographic markings", "feathering", "ferning", "Lichtenberg figures,"  "lightning flowers" or "lightning trees".
According to the National Lightning Safety Institute, 126 people in Florida have died from lightning strikes in recent years, while 10 times as many people have been injured by lightning's powerful current.
The National Weather Service reminds residents that anytime you hear thunder, you have the potential to be struck by lightning. Whenever lightning is followed by thunder within 30 seconds, you are less than 10 miles away and should seek shelter and remain inside until 30 minutes after the last thunder is heard. The National Lightning Safety Institute advises you to stay off the phone and keep away from windows and doors. Lightning can travel through household wiring and underground. Those outdoors should avoid metal objects, water, trees, open spaces or high ground. Seeking shelter in a car is among the best options.
Lightning Liability in Southwest Florida
In certain instances, employers, government agencies and other entities may share liability in the event of serious or fatal injuries caused by lightning. Such circumstances include:
Outdoor event organizers
Hosts of sporting events
Schools
Employers of those working outdoors
While the chances of being struck by lightning are roughly 1 in 500,000, it is important to understand that the odds increase signicantly when a thunderstorm is in the area and safety precautions have failed to be met, according to the University Risk Management and Insurance Association. The Southern Conference, of which Florida is a part, requires a delay of at least 33-minutes at a college sporting event if lightning is detected within eight miles of the stadium. Locally, the Lee County School District uses a lightning warning system at each location and provides Lightning Alert Status via WeatherBug for each high school location.
Lightning injuries occur in four different ways: Direct strike, splash from nearby object, ground strike, and electromagnetic pulse. Long-term medical complications can include ruptured eardrums, ocular cataracts, memory deficiencies, sleep disturbances, dizziness and chronic pain.
These are complex cases, both legally and medically. An experienced injury lawyer in Fort Myers or Cape Coral will review all of the facts and circumstances of your case to determine extent of injuries and identify all of the parties responsible.
If you or a loved one is injured, call Associates and Bruce L. Scheiner, Attorneys for the Injured, at 1-800-646-1210.