The Florida Department of Highway Safety and Motor Vehicles is joining forces with local law enforcement this October to bring attention to National Pedestrian Safety Month.
Our pedestrian injury lawyers have written extensively about the epidemic of serious and fatal pedestrian collisions throughout Florida. South Florida, in particular, has been repeatedly cited as the most dangerous location in the nation for walkers, with Cape Coral, Orlando, and Miami all making the list of 5 most dangerous metro areas in the country for pedestrians.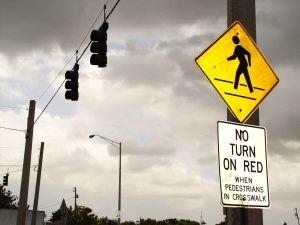 "Last year, we lost more than 700 Floridians – our friends, family members, neighbors, and coworkers – in senseless and preventable pedestrian-involved crashes," said FLHSMV Executive Director, Terry L. Rhodes. "Pedestrian safety is not a one-way street – it's the responsibility of all road users, and it's crucial that motorists and pedestrians alike stay alert and look out for one another's safety.
Last year, more than 8,000 pedestrian collisions in Florida claimed 712 lives, accounting for 1 in every 5 traffic fatalities. The Governor's Highway Safety Association reports Florida pedestrian deaths declined by 2 percent last year, the first decline in more than a decade. However, the state still ranked deadliest in the nation behind California, which was the only state to report more than 1,000 walking deaths.